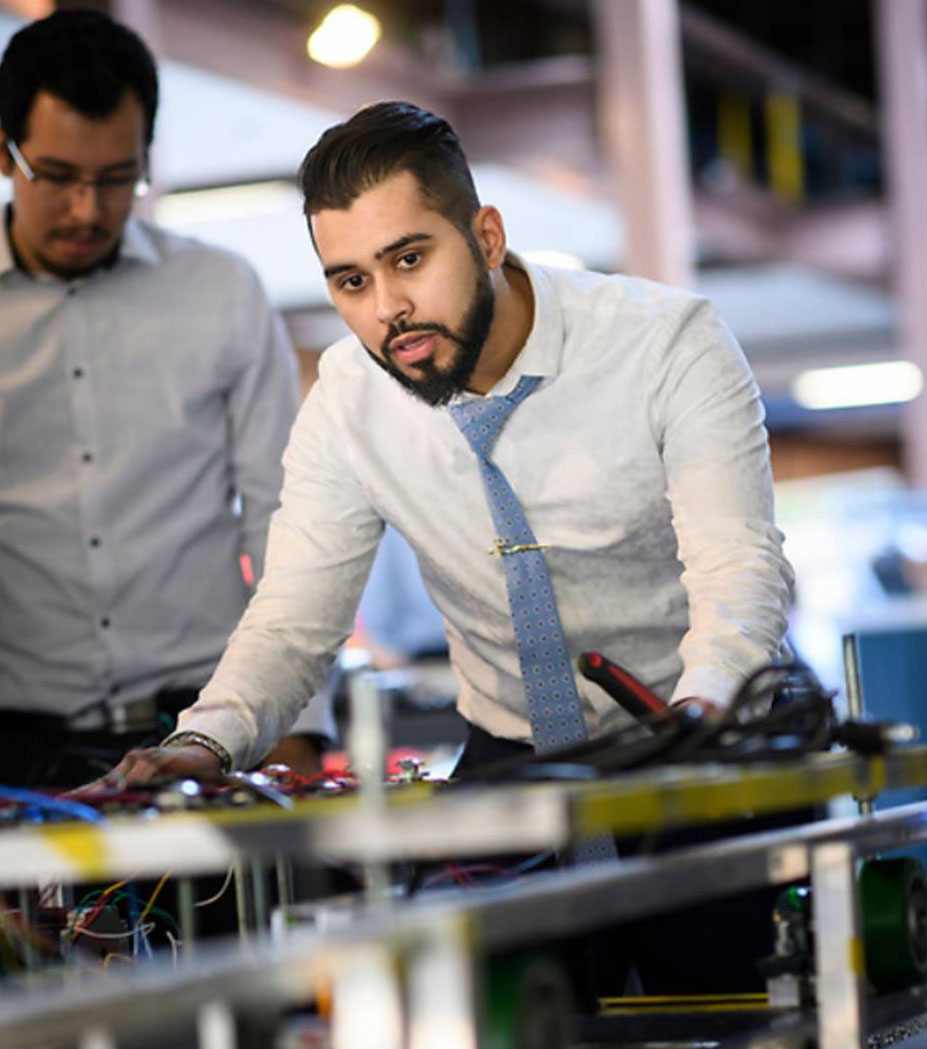 Considering advancing your career with a degree in engineering management? UNT Engineering's new graduate program may be just the answer. Our Master of Science degree in Engineering Management allows you to gain management knowledge that is valued by industry. Students can apply now for the fall 2020 semester.
UNT's degree is interdisciplinary, allowing students to learn about engineering management and a specialty area of their choice. Graduate students in our program have the opportunity to specialize in construction management or energy.
According to research conducted by EAB, from September 2016 to February 2019, regional job postings for master's-level engineering management professionals increased 172 percent, highlighting the increasing industry demand for engineering managers within the field.
What to expect
Students can expect to take 21 hours of core courses and 12 hours in their chosen concentration.
Core courses help students explore the design of experiments, technology innovation, product reliability and quality, and management of people and businesses.
Concentration areas focus on construction management and energy.
Students who graduate from this program will be able to:
Develop Design of Experiments for Six Sigma and associated methodologies for cost and quality improvement in process and product engineering
Manage the development of engineering projects and their human and societal impacts
Engage in strategic and entrepreneurship activities
Course offerings
| | | |
| --- | --- | --- |
| Course # | Course Name | Credit Hours |
| MSET 5020 | Design of Experiment for Six Sigma | 3 |
| MSET 5060 | Technology Innovation | 3 |
| MSET 5050 | Project Management in Engineering | 3 |
| MSET 5130 | Product Reliability and Quality | 3 |
| MSET 5250 | Management in Human and Societal Development* | 3 |
| MGMT 5300 | Entrepreneurship (College of Business) | 3 |
| MGMT 5760 | Strategic Management (College of Business) | 3 |
| | | |
| --- | --- | --- |
| Course # | Course Name | Credit Hours |
| MSET 5220 | Building Information Modeling | 3 |
| MSET 5200 | Advanced Construction Scheduling | 3 |
| MSET 5230 | Risk Management in Construction | 3 |
| MSET 5240 | Heavy Civil Construction Management | 3 |
| | | |
| --- | --- | --- |
| Course # | Course Name | Credit Hours |
| MEEN 5240 | Energy: A World Perspective | 3 |
| MEEN 5000 | Energy The Fundamentals | 3 |
| MEEN 5110 | Alternative Energy | 3 |
| MEEN 5800 | Energy and Environmental Sustainability | 3 |
Choose your career path
Employers look for engineering managers with extensive management coursework and advanced knowledge in engineering and technology. The core and concentrations for our M.S. in Engineering Management program are designed to meet the needs of students and industry in our region. Texas has the second-highest number of construction management jobs in the nation, and Dallas-Ft. Worth-Arlington has the fifth-highest number of construction management jobs of any metropolitan area according to the Bureau of Labor Statistics. Additionally, Texas is 2nd in the nation for clean energy jobs, according to a report by E2, and consistently leads the nation in the number of oil and gas jobs.
Marketable Skills
Manage engineering projects
Develop business models for small-to-medium-sized businesses
Manage human resources needs for a small-to-medium organization
Formulate statistical analysis for a product or a process
Perform risk analysis and management
Admissions
Our program is open to high-achieving students from engineering, computer science, or a related field. Each applicant's transcripts will be reviewed to determine if their background is suitable for admission into the concentration of their choice and/or if leveling coursework is required. If leveling coursework is needed, students may be required to take undergraduate leveling courses to prepare for coursework in the concentration of their choice.
Applicants for this program should:
Submit transcripts that demonstrate a minimum 2.8 cumulative GPA in previous coursework
Supply GRE scores. GRE may be waived for students who graduated from an ABET-accredited degree program or have a GPA of 3.3 or higher
Have a 79 or higher on TOEFL, a 6.0 or higher on IELTS, or otherwise meet the university requirements for English-language proficiency (if international)
Provide a resumé to reflect experience in engineering if the bachelor's degree is not obviously related to engineering, computer science, or a related field
Send email to Kathryn.Beasley@unt.edu for more information.
Apply by January 15th to be considered for all funding opportunities.
Funding your degree
Teaching and research assistantships provide support for many graduate students. In addition to a monthly stipend, assistantships also qualify students for in-state tuition rates, and many students receive tuition and fee support. Scholarships are available to graduate students as well. The general scholarship deadline is March 1 of each year. The College of Engineering also offers scholarships to qualified students throughout the year.
For more information about tuition, visit the online tuition calculator.