Research at College of Engineering
Research and innovation are integral parts to any college, and here at UNT's College of Engineering, it's no exception. With seven NSF CAREER Award winners, 117 full-time faculty members, and numerous state-of-the-art facilities, we're able to conduct world-class research that benefits today's modern world.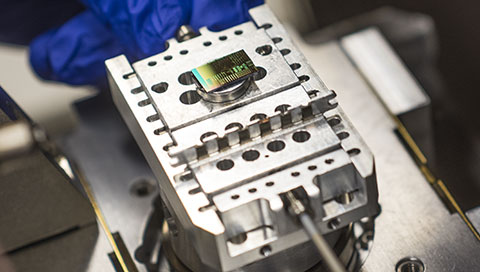 UNT is ranked as one of nation's 115 top-tier research universities by the Carnegie Classification Report.
In a paper published in Nature's Scientific Reports, University of North Texas Ph.D. graduate student Benjamin Sirota explains a new method for protecting nanoelectronics that will result in longer-lasting components with better electronic stability.
Novel bioresorbable stent will allow body to rebuild passageways
Biomedical Engineering department recently received $2 million grant from the National Institutes of Health to develop a biodegradable medical stent.
Anupama Kaul, director of the University of North Texas College of Engineering's PACCAR Technology Institute, and her research group have developed ultra-high performance optoelectronic devices based on molybdenum disulfide – or MoS2 – which shows excellent performance compared to prior studies.
Find a research faculty or research area