At the University of North Texas, our student-focused philosophy, world class faculty and exceptional research facilities will give you the freedom to pursue your goals and achieve them. With state-of-the-art labs and equipment housed in our 300-acre Discovery Park — about five miles north of UNT's main campus in Denton — the College of Engineering offers you a unique environment to learn, conduct research and connect with your peers and faculty mentors.
The College of Engineering offers:
12

bachelor's

11

master's

4

doctoral
Each degree program will provide you with hands-on, project-based study, preparing you to make a difference in the real world.
Learn how the UNT College of Engineering can help you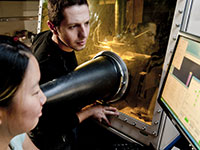 Conduct world-changing research and gain valuable hands-on experience with some of the most cutting edge equipment in the nation.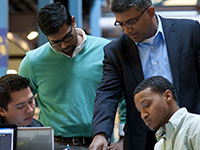 Highly esteemed in their fields, our professors also are highly engaged and approachable as teachers and mentors.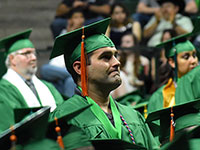 With 27 degree programs in five departments, you'll have the opportunity to gain the theoretical knowledge and practical skills to succeed in today's most in-demand engineering fields.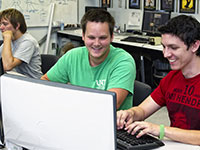 One of America's 100 Best College Buys® for 24 consecutive years, UNT provides a traditional college experience and the quality of a private university at an affordable cost.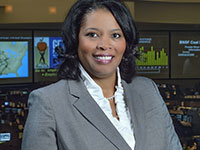 When you graduate from the UNT College of Engineering, you'll have the skills and experience employers are looking for.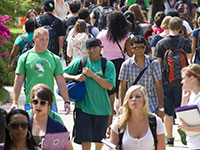 Tour Discovery Park. Talk to students and faculty. See for yourself how UNT and the College of Engineering can be your green light to greatness.
Questions regarding College of Engineering admissions?
UNT College of Engineering offers:
Uniqueness
The Mechanical and Energy Engineering program, the first of its kind in the nation, offers an opportunity to create a more sustainable and energy-efficient future.
Legacy
The Department of Computer Science and Engineering is one of the oldest in the country, with more than 45 years of excellence.
Connections
You can become involved in active network of more than 18 engineering student organizations.
Resources
While still an undergraduate, you'll have access to research grant funding and opportunities to begin research.
Special Study
You may choose from specializations and certificates in the areas of cybersecurity, game programming, manufacturing and nuclear engineering.
Innovation
Learn in extraordinary lab facilities such as the Computational Epidemiology Research Laboratory, the Laboratory for Recreational Computing, and the B3 Lab, which includes a 3-D printer that prints artificial tissue through the use of specialized inks and cell cultures.
Convenience
With valid UNT IDs, students may use the free bus service between Discovery Park and UNT's main campus, which runs up to 15 hours a day.
UNT is ranked as one of nation's Tier 1 research universities by Carnegie Classification Report.