Dual Degree in Engineering and Mathematics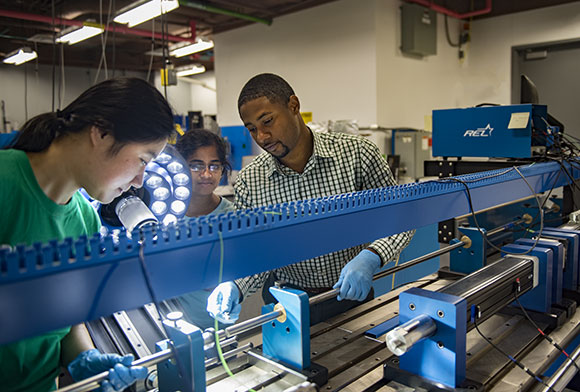 UNT's College of Engineering and TWU's College of Arts and Science are offering a unique opportunity for students interested in math and engineering.
Students can now attend both universities simultaneously and graduate with a bachelor of science in mathematics from TWU and a bachelor of science in biomedical, electrical, materials science, or mechanical and energy engineering from UNT.
The recommended course of study is designed to enable completion of the degrees in four years. It is also possible for students to obtain a degree in materials science and engineering from UNT, while also pursuing a degree in chemistry from TWU.
What to expect:
A well-rounded education in mathematics and the engineering field of your choice.
Strengthened career prospects and proven proficiency in your area of interest.
Combined faculty expertise from two top-tier universities.
A network of accomplished alumni who are successfully pursuing careers in mathematics and engineering.
Specialized mentorship for women entering STEM fields.
A prime location that provides unlimited internship and job opportunities.
Explore the programs
Texas Woman's University
Guided Pathways for 2018 Catalog
The gender gap is still evident in the STEM field, and it is crazy to think that less than a hundred years ago women weren't allowed to study engineering. I believe that this program can help close the gender gap with every woman that is recruited. We want every girl to grow up and not see a career as a boy job.
Stephanie Lopez
UNT Mechanical & Energy Engineering
TWU Mathematics