Thursday, October 10, 2019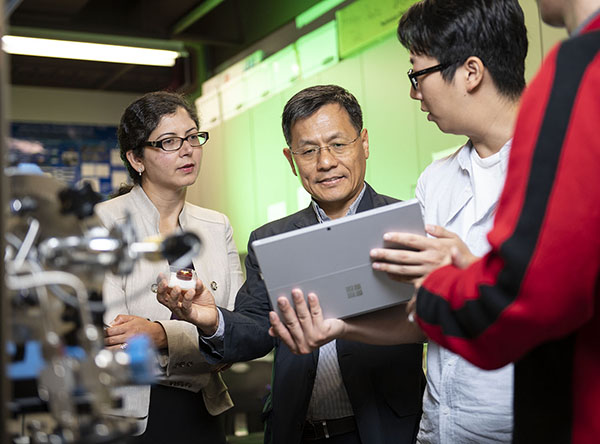 UNT Engineering professor Wonbong Choi and associate professor Gayatri Mehta are developing a sensor system for use in rebuilding and balancing the human knee.
Total knee arthroplasty is a surgical procedure that replaces the weight-bearing surfaces of the knee joint to relieve pain and correct disability. In order for the knee to work properly, orthopedic surgeons must ensure that everything in the joint is in balance. According to a study in Clinical Orthopaedics and Related Research, 35 percent of patients who undergo this surgery experience soft tissue imbalance and/or a misalignment that will lead to stiffness in the joint and/or instability.
"Currently, surgeons tend to rely on their best judgment in determining what 'feels' like a balanced and stable knee," said Choi, a member of the Department of Materials Science and Engineering. "Dr. Mehta and I believe we can create a flexible, internal wireless sensor system that will measure interactions between the tibia and femur and provide doctors with real-time information on joint pressure distribution both during and after surgery."
Mehta and Choi submitted an Early-Concepts Grants for Exploratory Research (EAGER) proposal for their sensor project in May 2019 and, as a result, received $150,000 from the National Science Foundation to begin developing the sensor system.
"In addition to developing the sensor, one of the primary goals of this project is to increase the participation and retention of women and underrepresented minorities in STEM disciplines," said Mehta, a member of the Department of Electrical Engineering. "During this research, special efforts will be made to recruit undergraduate students from different disciplines to provide them with teamwork experiences in preparation for their careers."
Graduate students will also develop knowledge and skills by participating in the project and learning novel methods for advanced nanomaterials processing and characterization, fabrication of electronic sensors, electronics for wireless sensors and biomedical sensing devices.
Choi and Mehta are co-principle investigators on this project. Donghui Zhu, director of the Engineering-Meets-Medicine Laboratory at Stony Brook University in New York, is also a co-principle investigator.